Andy Guhl · Künstler Musiker Architekt

Start · News · Artist Book · Archive · Clips · How To · Portrait · Discography · Contact






Resonance Rooms - Labor zur Transformation von traditionellem Musikspiel
Galleria Edizioni Periferia, Luzern FB
Unterlachenstrasse 12
27.8. - 1.10.2016

Ausstellung jeweils samstags 12 bis 17 Uhr
oder nach Vereinbarung mail@periferia.ch

27. August, 17 Uhr
Opening Performance Andy Guhl,
3d Partitur of Expanded Cracked Everyday Electronics
3. September, 13 & 17 Uhr «Resonating The Past 1»
Julian Sartorius, Drums, Homemade Instruments der 8Oziger/
Andy Guhl, Federphone, Electronics
Im Rahmen von Kunsthoch Luzern
10. September, 17 Uhr «Resonating The Past 2»
Jonas Kocher, Akkordeon/Gaudenz Badrutt, Electronics/
Andy Guhl, Visuals

24. September, 17 Uhr «Resonating The Past 3»
Franz Hautzinger, Trompete/
Charles Uzor, Cracked Everyday Electronics/
Andy Guhl, Audio-Visuals

1. Oktober, 17 Uhr «Resonating The Past 4»
Richard Jean, Electronics Accidentés/
Yan Jun, Electronic Poetry/Andy Guhl, Audio-Visuals

Im Labor zur Transformation
von traditionellem Musikspiel findet
die Veranstaltungsreihe der HSLU-Musik
«Step Accross The Border -
Zwischen Improvisation und Komposition» statt.
Ein Projekt des Studios für zeitgenössische Musik.
Leitung: Sascha Armbruster, Andy Guhl.
Öffentliches Konzert mit den Studenten
in der Galleria Edizioni Periferia:
Dienstag, 4. Oktober, 19.30 Uhr

Anlässlich der Ausstellung erscheint
die 9. Publikation der Reihe MINI MONO.
Auflage 150, nummeriert und signiert,
1 - 10 sind Vorzugsausgaben.

Html Code mit Resonanz - www.resonancerooms.ch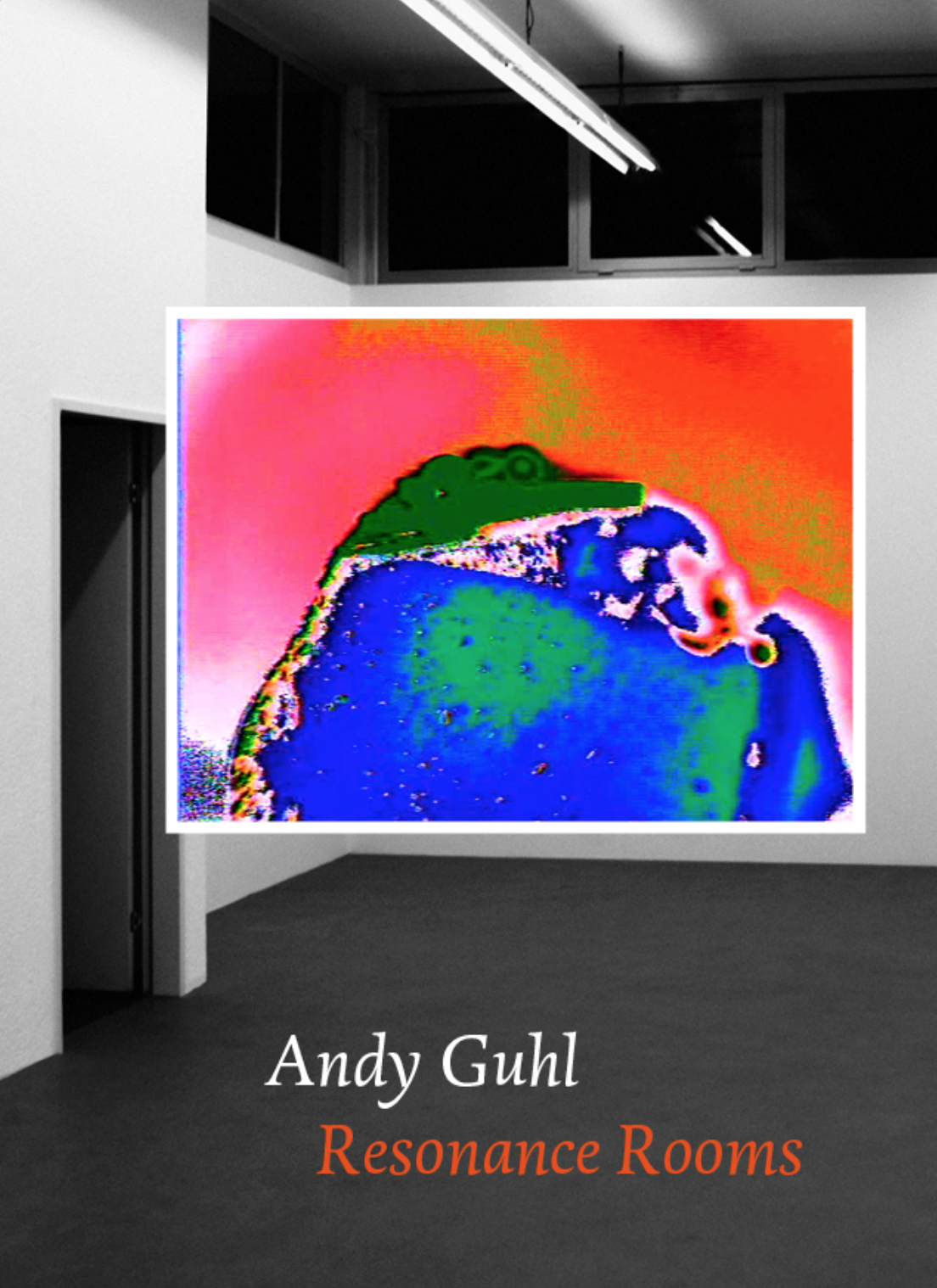 Kunstcamp Randzone, Ohm41, Villa Sutter und Alfred Sutter Park Münchwilen
19.8. - 26.8.2016

Unter dem Titel Kunstcamp Randzone wird während einer Woche der Alfred Sutter Park + die Villa Sutter in Münchwilen zu einem Raum mit Themen, die bewegen Aktionen, die berühren und Kunst, die Boden gibt.

Konzert Andy Guhl, "Akustische Ferngläser"
Geknackte Alltagselektronik und Visuals im Villa Sutter Park
Freitag 19.8.2016, 22 00 Uhr

4rd edition of festival "Kill the Silence" 2016, Hongkong

presented by LUFF (Lausanne Underground Film & Music Festival) from Switzerland

"Kick that Habit" from Peter Liechti
Andy Guhl "THE INSTRUMENT"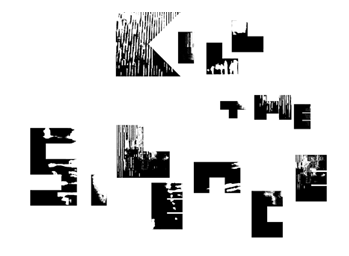 Sound around Kaliningrad 2016, Russia

The biggest festival of experimental music in Kaliningrad,
presented by the ministry of culture of the Russian Federation,
and the National Centre for Contemporary Arts, NCCA

Program: SOUND AND VIDEO: FEED BACK
100 Geburtstag von DADA, Cabaret Voltaire, Kaliningrad, Russland

21.4.16 talk and workshop 12:00-13:30
Art Platform "VOROTA" ul. Litovsky val 61
22.4.16 workshop continuation 12:00-14:00
Art Platform "VOROTA" ul. Litovsky val 61
22.4.16 performance 20:00
Attic of BB NCCA, ul. Litovsky val 38
23.4.16 public presentation of results of workshop 14:00
Art Platform "VOROTA" ul. Litovsky val 61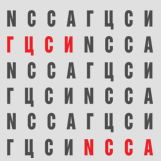 la 11e édition du festival PiedNu, 19. - 26.3.2016, Le havre, France

présenté par l'Atelier de Musique du Havre
et l'Ecole Supérieure d'Art Du Havre et Rouen
"Ear Lights, Eye Sounds"
Konzert Sonntag 20. März 2016
Développer "Real Audio et Real Visuel Performance",
Workshop with 7 students of art school le havre.
Fort de Tourneville, 55 Rue du 329ème, 76620 Le Havre, Frankreich


NOISE FEST SAS, Cour du Chateau, 2016

19. Februar 2016
SAS Cour du Chateau, Cour du Chateau, 2800 Delemont

Noise fest #3, 21:00 Tickets
STEPHEN O'MALLEY (US/FR)
ANDY GUHL (CH)
GILLES AUBRY (CH/DE)
COSNOST (CH)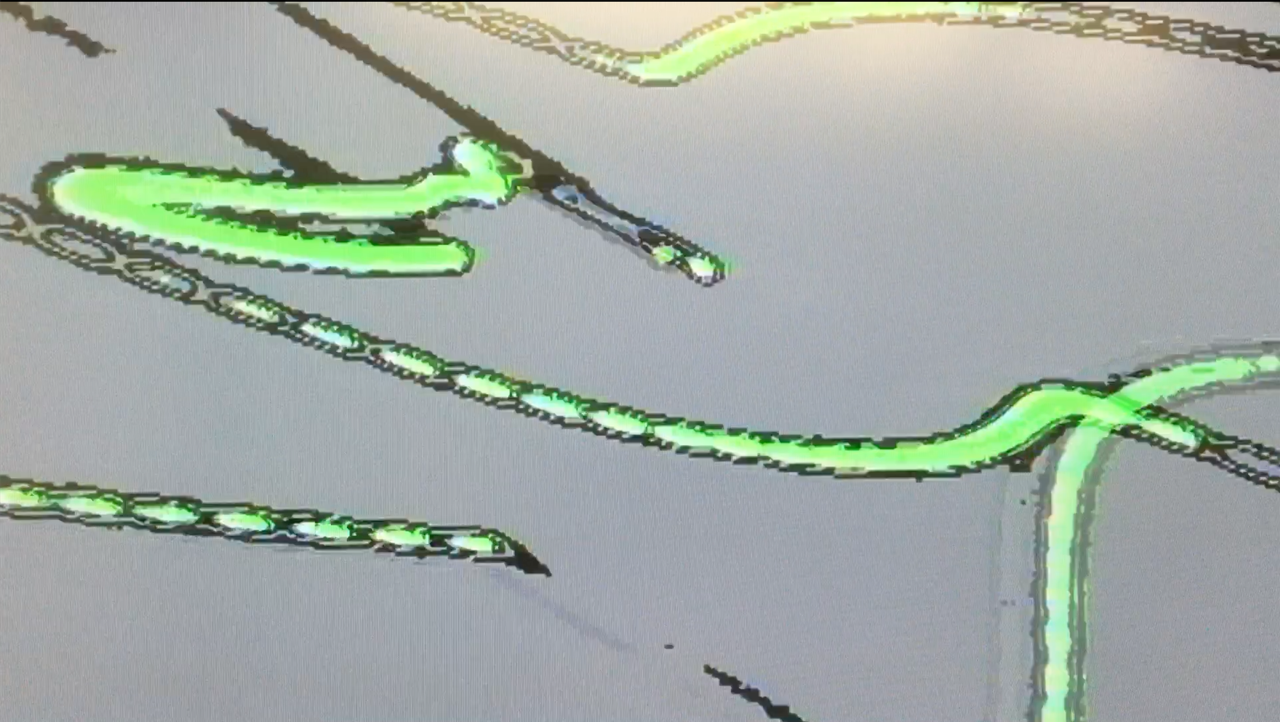 ZWEI TAGE ZEIT, 2016
Koproduktion des Musikpodiums der Satdt Zürich, IGNM Zürich und WIM
Programm

23. Januar 2016, 20.45 Uhr
Theater Rigiblick, Germaniastrasse 99, 8044 Zürich

Soundcheck
HEIMSPIEL 11.12.15-21.2.16, 2015/2016

Heimspiel, Vaduz/St. Gallen

Die länderübergreifende Kunstschau «Heimspiel» gibt Einblick in das aktuelle Schaffen
von Künstlerinnen und Künstlern mit Bezug zu den Kantonen Appenzell Ausserrhoden,
Appenzell Innerrhoden, St.Gallen, Thurgau, Fürstentum Liechtenstein und Vorarlberg.

10. Dezember 2015, 18.30 - 20.00 Vernissage
Kunstmuseum Liechtenstein Vaduz

FESTIVAL "L'OEIL & L'OREILLE" 35 ans déjà, Sion, 2015

Andy Guhl Elektroniks und Live Visuals
Charlotte Hug Bratsche und Elektroniks

30. Oktober 2015, 20.45 Uhr
Festival, église des Jésuites, 1950 Sion


KOPFHÖRERKONZERTE im Lokal-int, 2015

26. September 2015, 20.15 Uhr
Lokal-int, Raum für zeitgenössische Kunst, Hugistrasse 3, 2505 Biel-Bienne



MAP OF THE NEW ART - Andy Guhl, Soundchip, 2014


imagomundiart.com/artworks/andy-guhl-soundchip

MAP OF THE NEW ART
FONDAZIONE GIORGIO CINI
SEP 1 - NOV 1 2015
Island of San Giorgio Maggiore, Venice
Five continents, 38 collections, 6930 artists with 10x12 cm artworks
imago mundi Luciano Benetton Collection

all artworks: imagomundiart.com/artworks
Live Visuals at Swiss Psych Fest 2015





Andy Guhl, expanded cracked everyday electronics
In collaboration with Tabea Guhl, Thomas Brändle
For once Andy Guhl creates only visuals with a part of his electronic instrument:
Video synthesizer, divers wireless monitoring cameras, prismatic opticals,
LCD screens, microscopic cameras and reflecting minerals,
blinking bycicle lamps and tuning cameras and video buffering
complete his electronic video-instrument.
2013 for All Ship Shapes

Festival
8. - 10. Mai 2015, [amalgame][club], Avenue des Sports 5, 1400 Yverdon-les-Bains, Switzerland

Ein elektroakustisches Trio der besonderen Art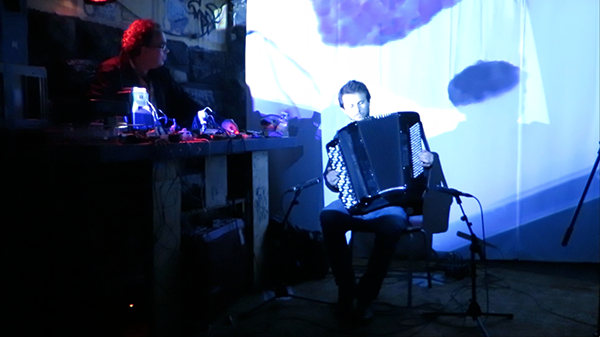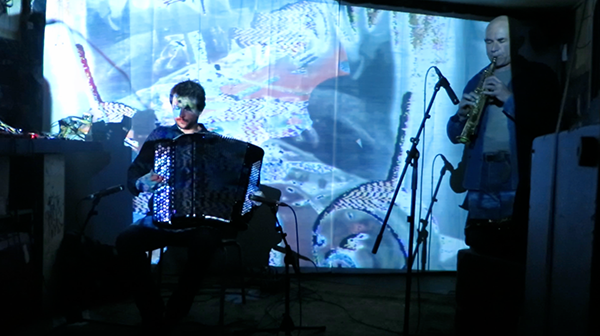 JONAS KOCHER/MICHEL DONEDA/ANDY GUHL (CH/France)
Jonas Kocher Accordeon
Michel Doneda Saxophone
Andy Guhl: Video/Electronics
Project supported by Oertli Fondation, City of Biel and the Canton of Bern.
Unterschiedliche Qualitäten von Luft beschwört vom Saxophon Michel Donedas
und dem Akkordeon Jonas Kochers – vom säuselnden Wind bis zum Heulen und Pfeifen,
ineinander verwoben zu einer Dramaturgie des Rausches. Dazu die tosenden,
zu Licht und Lärm gewordenen elektronischen Alltagsgegenstände Andy Suhls:
Musik wird zu Visuals, Visuals zu Musik in Endlosschlaufe.
Ein ungewöhnliches elektro-akkustisches Improvisations-Trio von Altmeistern der Verzerrung und Textur.

15. April 15, 21 30 Uhr
cave 12, Rue de la Prarie 4, 1202 Genf
16. April 15, 21 00 Uhr
La Voirie, Brunngasse 1, 2502 Biel

17. April 15, 22 00 Uhr
Klubi, Wasserwerkstrasse 89a, 8037 Zürich
http://entart.ch/about/

18. April 15, 21 30 Uhr
Kinok - Cinema, in der Lokremise, Grünbergstrasse 7 9000 St. Gallen


Präsentiert von cineclub St. Gallen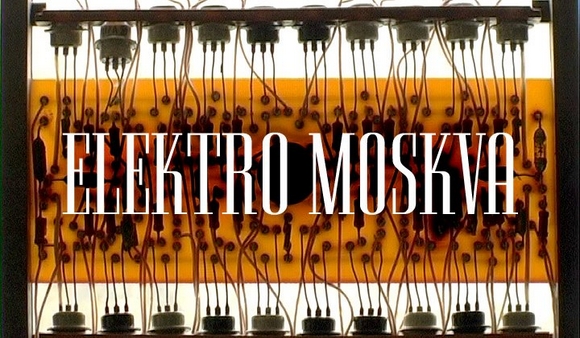 Einführungen und Audio/Visual Performance von Andy Guhl zum Film
"Elektro Moskva"
Österreich/Russland, 2013, 89 Minuten
mit Leon Theremin, Andrey Smirnov, Stanislav Kreichi, Aleksey Iljinikh
23. Februar 2015, 18 00 und 20 30 Uhr, Grabenhalle St. Gallen



Januarloch Festival


Stunning new visuals and sounds with his latest technic - video synthesizer feedbacks and expanded cracked everyday electronics.
Duo with Manuel Mengis, Trumpet with Electronics.
14. Januar 2015, 20 30 Uhr, Schönegg Varieté, Zürich

youtube
Grafikklang


Referate über Klang und Musik
19. Dezember 2014, 19 30 Uhr, Rosengarten, Kalkbreitestr.2, Zürich

Konzert Bruil Fusiller Guhl



Arno Bruil is member of France Sauvage and Une Fille Pour Le Diable.
Fusiller is member of Opera Mort and Reines d'Angleterre.
Andy Guhl, "The Instrument"
26. Oktober 2014, Palace Zwinglistrasse 3 9000 St.Gallen

www.palace.sg





«Cracking the library», Andreas Zuest



Workshop mit Andy Guhl, 20. und 21. September 2014
Kuratorinnen Annett Höland und Simone Koller
Kulturfrachter Alpenhof, St. Antonstrasse 62 9413 Oberegg AI

Workshop-PDF
www.andreaszuest.net
www.alpenhof.ch





«Noise for Books» Duo Andy Guhl & Yan Jun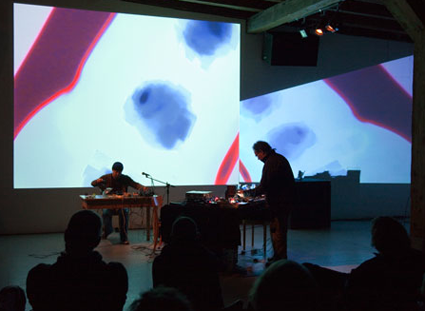 Samstag 6.9.14, Stiftsbibliothek St.Gallen
00.00 Uhr «Noise for Books»
Im Rahmen der Museumsnacht 2014




Not Zero and Zilch - Städtische Ausstellung, Architektur Forum Ostschweiz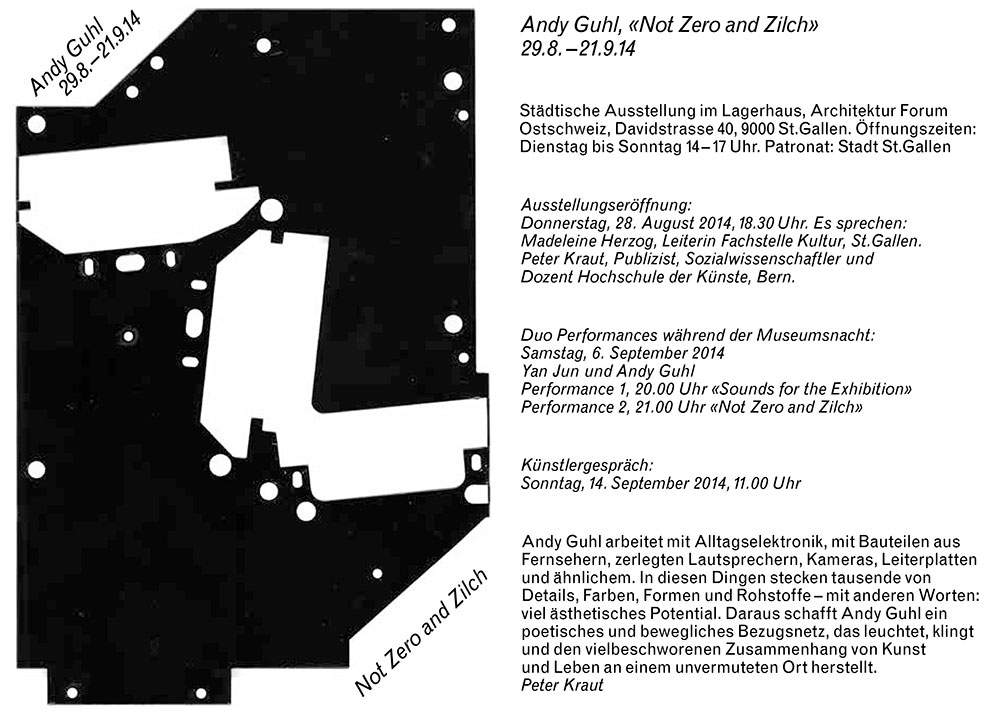 Andy Guhl Einzelausstellung im Architekturforum St.Gallen

Do 28. August. bis So 21. September 2014, Öffnungszeiten: Di–So, 14–17 Uhr
Vernissage Do 28. August um 18.30 Uhr

a-f-o.ch/museumsnacht-2014/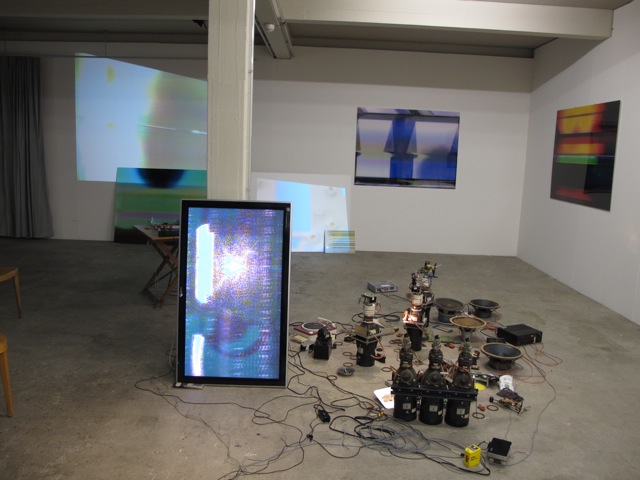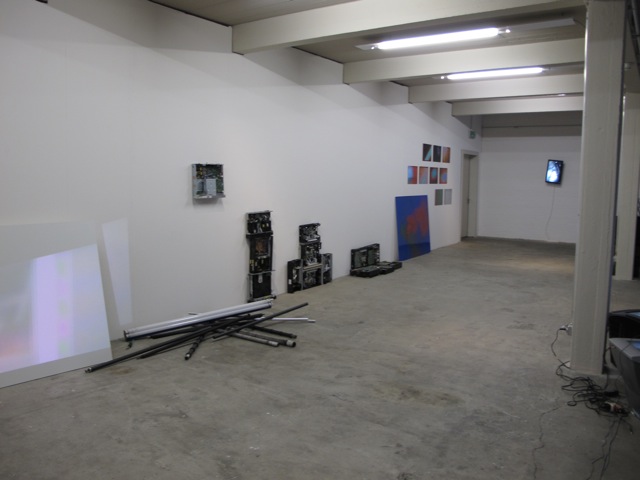 Ausstellungsplan-PDF


Samstag 6.9.14, in der Ausstellung im Architektur Forum Davidstrasse 40, St.Gallen
Museumsnacht St. Gallen: www.museumsnachtsg.ch/programm.html

Andy Guhl, visuals und geknackte Alltagselektronik, Musiker und Künstler, St. Gallen andy.guhl.net
Yan Jun, electronics, Musiker / Autor / Poet www.yanjun.org und www.subjam.org
20 00 Uhr "Sounds for the Exhibition"
21 00 Uhr "Not Zero and Zilch"
STÖRUNG FESTIVAL 9



Experimental Electronic Music and Visual Arts Festival
09-12.04.2014
Barcelona

concert wedensday 9.4.2014
Barcelona, la Farina del Clot 8 pm
surprise concert with:
stefano valmontina visuals and electronics
andy guhl visuals and cracked everyday electronics

thursday 10.4.2014
Barcelona, la Farina del Clot 4 pm
Workshop, Conference: 'Ear Lights, Eye Sounds. Expanded Cracked Everyday Electronics'

www.storung.com/festivales/2014/


La Farinera del Clot
Gran Vía de les Corts, 837
Metro: Glóries (L1)

TMB Universitat
Metro: Universitat (L1 & L2)




Buchvernissage Andy Guhl mit Konzert





Ear Lights, Eye Sounds.

Sonntag 6.4. 10.30 Uhr, Gallusplatz
(Eingang hinter der Klosterdrogerie)
klein aber fein, St. Gallen

www.kleinaberfein.sg


-> Buch bestellen / order the book: www.periferia.ch



Ear Lights, Eye Sounds. - book release
26.3.14, Centre Culturel Suisse Paris

PERFORMANCE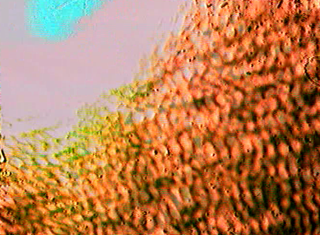 26.03.14 / 20h
Andy Guhl et Jérôme Noetinger


Le concert / performance au CCS coïncide avec la parution du livre Andy Guhl, Ear Lights, Eye Sounds aux éditions Periferia

Information CCS Paris


-> Buch bestellen / order the book: www.periferia.ch





Ear Lights, Eye Sounds.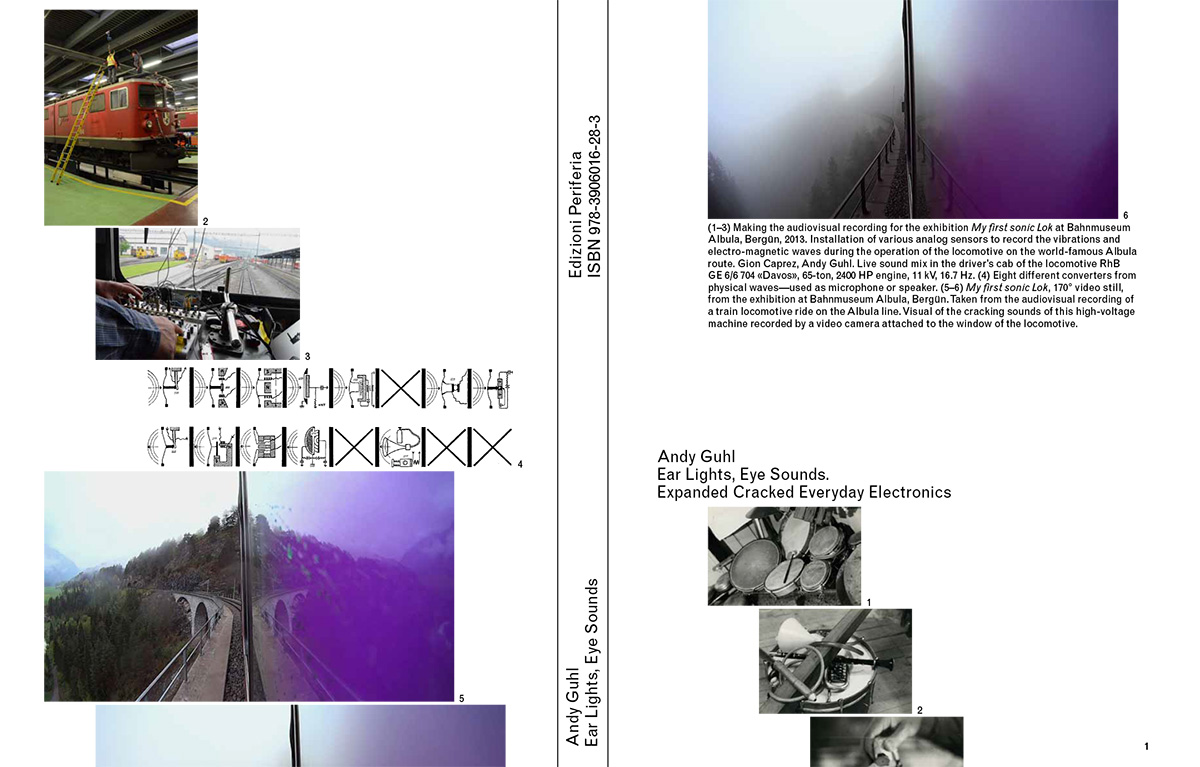 coming soon - project website:

www.earlightseyesounds.ch


-> Buch bestellen / order the book: www.periferia.ch






COLOUR OUT OF SPACE" / 6





INTERNATIONAL EXPERIMENTAL SOUND FESTIVAL
Saturday 5.30pm - 12.30am at The Old Market
11A Upper Market St Brighton, BN3 1AS, England
www.colouroutofspace.org/html/Weekend13.html#saturday
www.colouroutofspace.org/




Sound Reasons 2013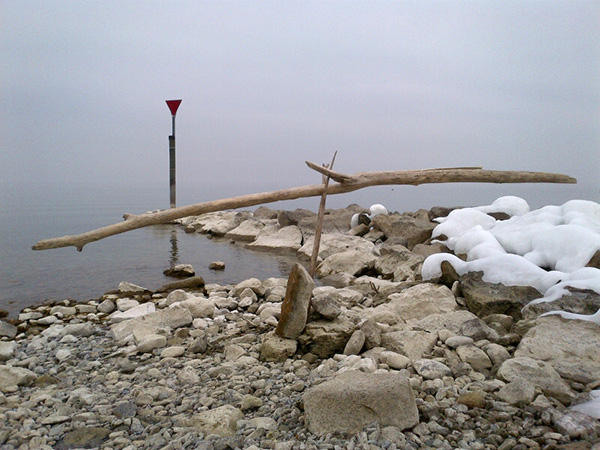 a festival for sound art, contemporary Jazz and electronic music.
16 November 2013: Performance & installation at the Embassy of Switzerland / Delhi
17 November 2013: Performance at Bandra Base / Mumbai [TBC]
18 November 2013: Workshop at GATI Dance Forum / Delhi
Studio Session
19 November 2013: At Peninsular Studios / Delhi
20 Nov Live Performance Alliance Frances de Delhi, Lodi Road
22 Nov Live Performance Goethe Institute, KG Marg Delhi
soundreasons.in
soundreasons.in/andy-guhl
prohelvetia.in/News-Detail.1932.0.html




Fünfstern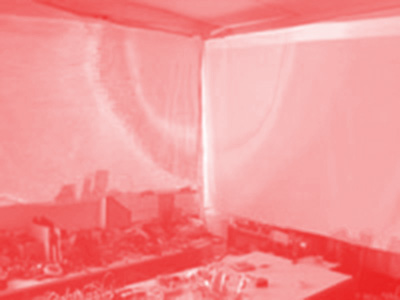 Gesamt-Vernissage vom Fünfsternprojekt
Samstag, 22.2.2014 um 18 Uhr

Ich öffne mein Atelier am:
Samstag 15. März von 12.00 - 19.00 Uhr
Sonntag 16. März von 11.00 - 17.00 Uhr
Mühlensteg 3, 9000 St. Gallen

Insgesamt sind es 61 OFFENE ATELIERS Stadt St.Gallen

www.fuenfstern.com
www.facebook.com/events/497024697073446/?fref=ts
Sliced Catbrain 2013



Gruppenausstellung Kunstgeisterbahn, Vernissage 22. August 2013 19.00 Uhr
Nextex Blumenbergplatz 6, 9000 St. Gallen
22. August - 3. Oktober 2013

http://www.nextex.ch/vorschau.html




Ohm 41 "Vollraum"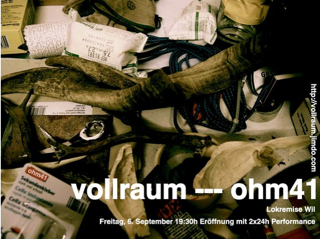 Samstag 7.9.2013, 21 30 Uhr, Lokremise, Silostrasse 2, 9500 Wil
Ohm 41 "Vollraum" 2x24 Stunden durchgehend geöffnet.

http://vollraum.jimdo.com/
http://vollraum.jimdo.com/lokremise-wil-sg/



My first sonic Lok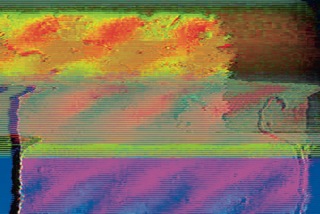 Performance und Ausstellung.

Sonntag 1.September 2013, 15 00 Uhr
Bahnmuseum Plazi 2A 7482 Bergün/Bravuogn
Anschliessend Vernissage im Bahnmuseum

1. September 2013 – 29. Februar 2014

audiovisuell klang- und materialintervention schaudepot,
materialintervention wechselausstellung,
scanner- und LED paintings
zu kaufen: usb stick mit bahnsounds

http://www.bahnmuseum-albula.ch/home/besuch/veranstaltungen/alle-veranstaltungen/veranstaltungen-detail/datum/2013/09/01/klangintervention-andy-guhl.html
http://www.bahnmuseum-albula.ch/home/news/news-detail/datum/2013/07/24/my-first-sonic-lok.html